Assalamualaikum
update: drama ni dah habis so aku plan nak bagi spoiler sikit. banyak jugak view entry ni so here we go. WARNING:SPOILER ALERT.



Siapa yang tengah tengok drama ni put your hands up, put put put put put your hands up hahahaha
Well,another post about korean drama.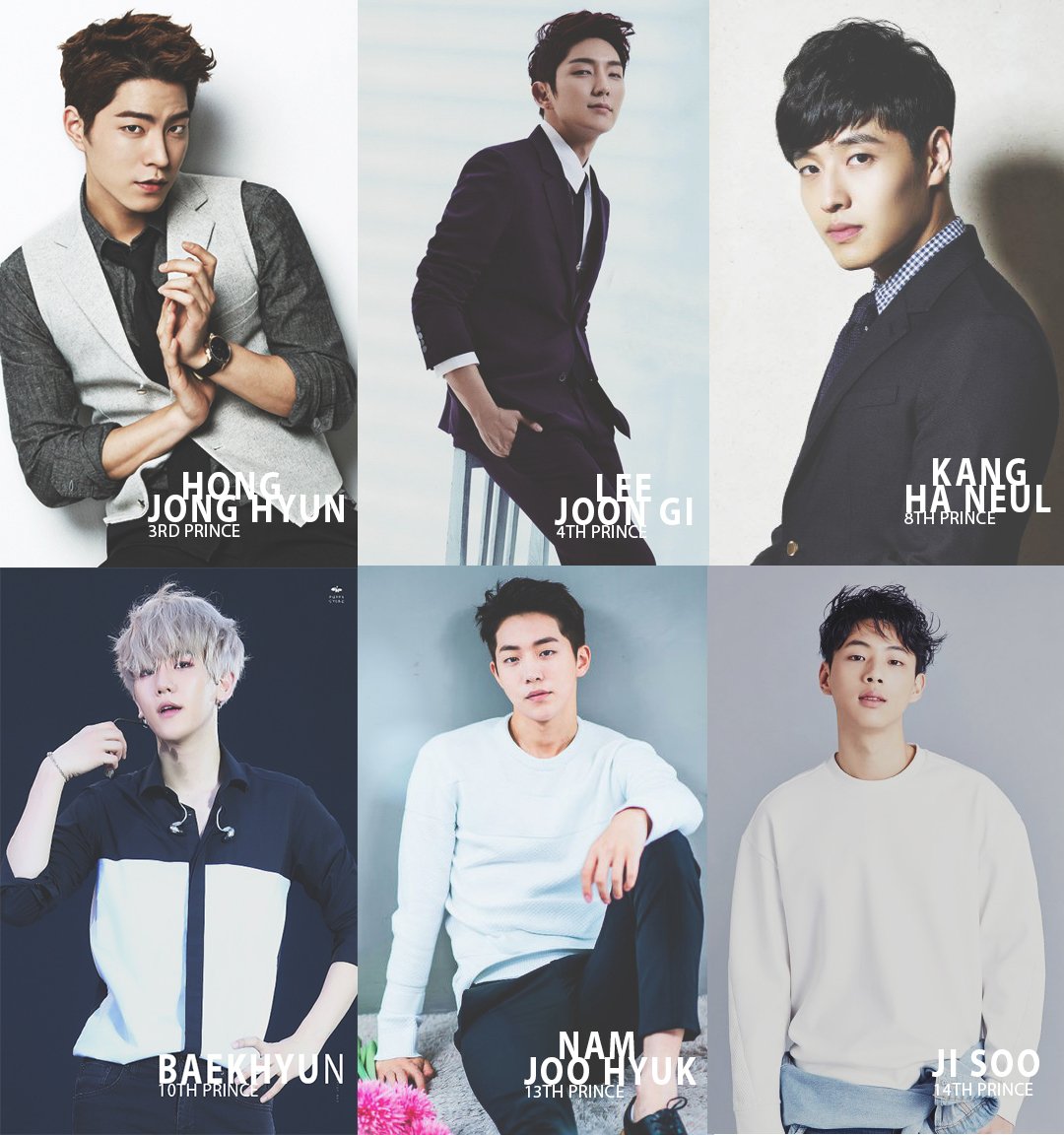 Tengok muka-muka princes tu wei gila ah bertuah betul IU ni hahaha
The plot :
When a total eclipse of the sun took place, a 21st century woman, Ko Ha-jin (IU) is transported back in time to the Goryeo Dynasty of Korea. She wakes up in the body of 16-year-old Hae Soo. There, she falls in love with the 4th Prince Wang So (Lee Joon-gi), who hides his face behind a mask and is given the derogatory label "dog-wolf" by others, making other people tremble with fear. Love, rivalry, politics, and friendships ensue between the princes, in a fight for the throne, friendship, and love.
jujur lah selama ni aku tak pernah lagi tengok historical drama cause aku rasa drama historical ni a little bit boring berbanding dengan drama-drama yang moden. Maybe sebab cara diorang bercakap tu kot hahaha sopan semacam je plus kadang2 susah gak nak faham benda yang diorang cakapkan tu,unless kalau kau tahu pasal sejarah korea lah.
Aku nak tengok drama ni sebab Exo Baekhyun je although he is not my actual bias dalam exo but why not?First time kot dia berlakon. First episode boleh lah tapi aku susah sikit nak faham jalan cerita dia. Yang aku tahu King dalam cerita ni ada banyak anak T_T sampai ada prince yang ke-14. Tapi berlainan mak lah. Ntah lah,aku masih dalam proses nak faham sebenarnya haha
Actually drama ni ada versi chinese & diorang remake kan je kot. Jap kalau tak silap aku nama dalam versi chinese ialah Scarlet Heart (correct me if im wrong) Korang search kan je lah kat google.
Watak Baekhyun dalam ni is really cute! Sama macam watak sebenar dia in real life hahaha
mula-mula korang memang akan confuse sikit especially bagi aku lah sebab aku tak pernah lagi tengok historical drama. episode yang first2 memang best sebab ada part yang sweet & lawak. ramai jugak yang jatuh cinta kat Hae Soo termasuk Eun. hahaha cute je aku tengok dia ni tapi yelah Hae Soo tak suka kat dia pun,dia je yang perasan sebenarnya. At first pasal love story antara Hae Soo & Wook,time ni aku dah ship diorang sebab sweet gila okay plus Wook tu handsomenya lahaiiii

and then slowly korang akan tiba-tiba rasa macam ship Hae Soo tu dengan Soo(4th prince) pulak hahaha apani?? but if korang pernah tengok yang versi chinese maybe korang dah agak last2 Hae Soo ni kahwin dengan siapa sebab aku memang tak pernah tengok so aku memang terkejut gila hahaha

episode pertengahan akan ada banyak konflik muncul and bila masuk episode ending pulak hah masa ni korang perlu sediakan tisu banyak-banyak. i don't know why the hell ramai sangat yang mati dalam drama ni. sedih gila okay! satu persatu watak dalam drama ni akan mati and scene yang paling aku rasa sedih is when Eun (10th prince) dengan isteri dia mati dibunuh.



my eunnnn :')
almost semua princes dalam drama ni mati. lepas bapa diorang mati,most of the princes rebutkan crown tu.
episode 19 & 20 memang heartbreaking sungguh! aku memang dah jangka dah drama ni tak kan berakhir dengan happy ending but i didn't know that it will be sooooo sad!
first of all,yes ending drama ni memang sedih. but tak semua drama berakhir dengan happy ending kan? so i really recommend to watch this drama. it is a good drama and i don't even care if drama ni tak mendapat sambutan kat korea so you have to watch this! aku pun tak faham why rating drama ni bawah 10%.


aku just akan bagitau yang ending dia sedih. tu je lah haha kalau nak tau sedih dia tu macam mana kena lah tengok tapi aku memang puas hati lah jugak dengan ending dia.