Assalamualaikum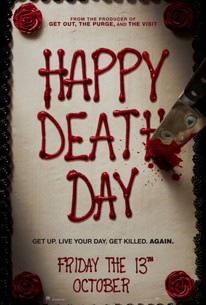 Lepas balik je dari Kampung Budaya untuk buat video assignment,kitorang terus gerak ke shopping mall nak tengok wayang. Last minute plan lah jugak. Pagi tu panas giler wei,lepas tu masa kitorang keluar je dari kampung budaya tiba-tiba ribut lepas tu hujan lebat pulak.
Kitorang belum tahu lagi nak tengok movie apa tapi kitorang memang tak nak tunggu lama,so last2 kitorang decide nak tengok movie Happy death day je. Tapi movie ni dah start dalam 20+ minit macam tu jugak hahaha so cepat2 masuk dalam panggung. Baru je nak duduk tiba2 ada scene pompuan tu kena terkam cisssss boleh sakit jantung kalau macam ni haha
Tree Gelbman is a blissfully self-centered collegian who wakes up on her birthday in the bed of a student named Carter. As the morning goes on, Tree gets the eerie feeling that she's experienced the events of this day before. When a masked killer suddenly takes her life in a brutal attack, she once again magically wakes up in Carter's dorm room unharmed. Now, the frightened young woman must relive the same day over and over until she figures out who murdered her.
Tapi nasib baik kitorang faham jugak jalan cerita dia although dah terlambat dalam setengah jam hahaha. Movie ni tak adalah seram mana,aku ingatkan cerita hantu sebab aku belum baca sinopsis dia lagi,trailer pun aku tak tengok lagi masa tu hahaha tapi movie ni ada jugaklah yang part kelakar.
Baca sinopsis tu pun korang dah faham kan jalan cerita dia? At first aku ingatkan Carter pembunuh tu tapi rupanya orang lain. Tak terfikir pulak dia tu pembunuh sebenarnya.
Movie ni ada banyak life lesson yang korang dapat ambilkan hahaha tapi kan,motif pembunuh tu nak bunuh Tree memang tak masuk dek akal lah. Hanya gara-gara tu je?
Carter yang banyak bantu dia and last2 of course lah dia jadikan Carter sebagai boyfriend kan? Ada lah jugak part romance tapi tak banyak. Scene lawak lagi lah banyak hahaha
Jangan risau,movie ni happy ending.
aku tak tahu nak review apa lagi sebab kalau aku review lebih mendalam takut terbagi spoiler pulak dah. Macam mana eh? Korang tengok lah sendiri.
apa-apa pun boleh lah movie ni. Tak ada lah boring mana. Best lah jugak haha
Rate : 💥💥💥/💥💥💥💥💥