Assalamualaikum 💗
let's just skip intro yang selalunya dimulakan dengan ayat "fuhh lamanya aku tak update blog ni" okay? hahaha
sementara tunggu result spss aku ni keluar
(nak dekat 2 jam aku tunggu ni oi)
, so aku decide nak update blog. Time semester break ni nanti boleh lah aku update selalu,inshaallah.
so alkisahnya masa ni kitorang nak pergi site visit untuk assignment. so alang-alang masih awal lagi kitorang pergi lah vivacity dulu nak beli popcorn je hahaha . eh btw kat sini dah ada innisfree & etude house guys! hahaha tapi setiap kali aku lalu kedai ni aku pandang sebelah mata je sebab kalau tak habis pokai lah aku.
sebelum pergi troots ni, kitorang tengok wayang dulu and kitorang belum makan nasi lagi masa ni sebab dah kenyang makan popcorn.
kitorang guna waze pergi sini hahaha ingatkan jauh tapi rupanya bersebelahan dengan boulevard shopping mall je kurang asam ciss. Masa ni hujan lebat jugak so tak sempat nak ambil gambar depan kedai ni.
Troots cafe ni ada desserts macam bingsu, paoping, waffles etc. Actually kitorang macam salah timing pulak pergi time ni sebab dah lah sejuk sebab hujan pastu boleh pulak nak pergi makan bingsu hahahaha but nvm sebab kitorang memang dah lama gila teringin nak pergi sini.
i really love the interior! semua white marble je. tapi yang tak bestnya diorang tak banyak seat. I think dalam ni ada 8 meja je kalau tak silap.
aku suka gila meja yang white marble macam ni!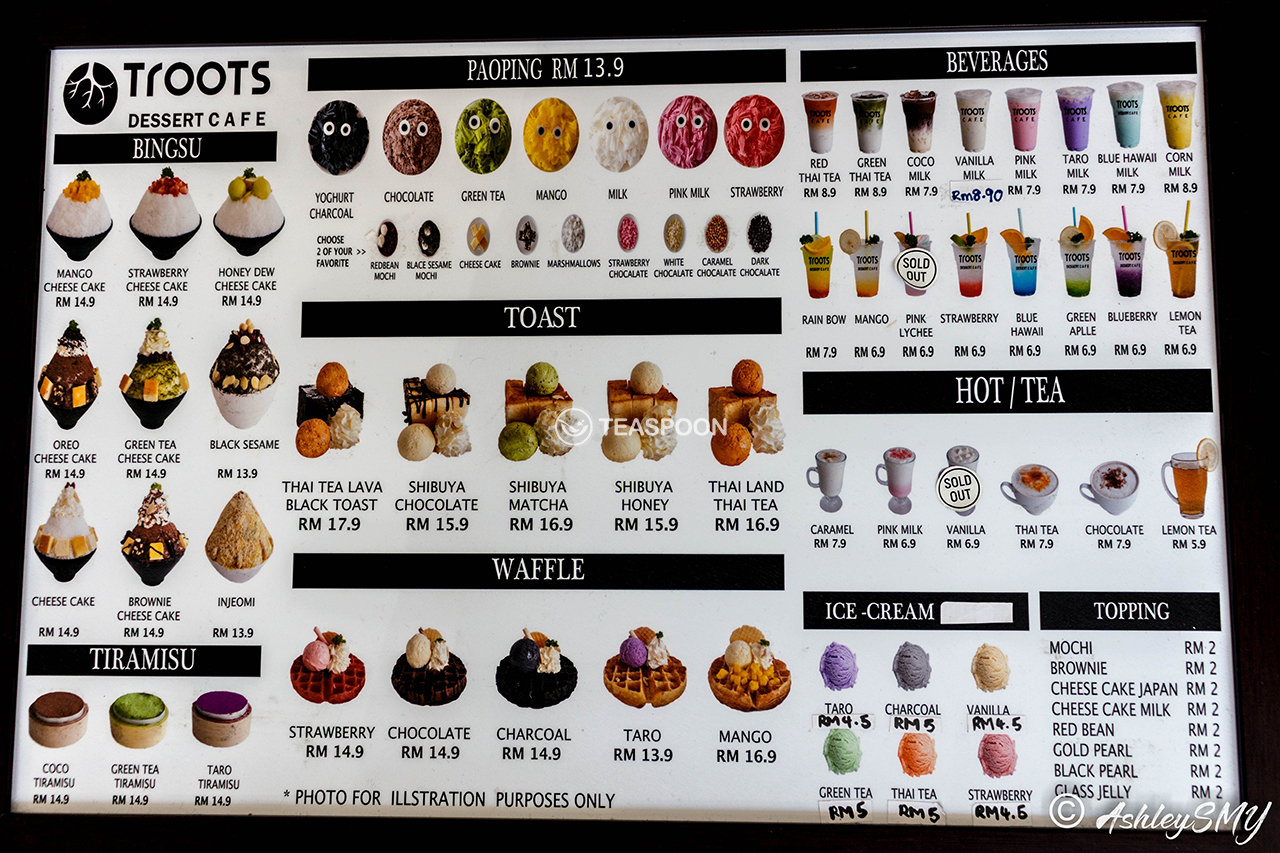 the menu 👆 i think the price is quite affordable lah kan? tak mahal sangat.
oleh kerana takut membazir, so kitorang berdua decide nak kongsi je. Alhamdulilah nasib baik tak tamak sangat masa tu hahaha sebab portion diorang boleh tahan besar jugak.
kitorang order oreo cheese cake bingsu .
Rating : 3.8/5
honestly kitorang tak berapa suka dengan cream putih tu so aku asingkan benda tu. at first, aku rasa macam mehhh tak ada lah sedap mana. Tapi lama-lama makan aihhhh kenapa tiba2 rasa sedap pulak HAHAHAHA maybe sebab aku dah asingkan cream tu kot,hmm. But i really like the dark chocolate yang square tu! Sedap gila! but i don't like yang cheese tu haha
chocolate waffle.
Rating : 4/5
and again, kitorang asingkan cream putih & ais-krim tu. Idk why kitorang berdua tak suka rasa dia. I don't know how to explain this. But waffle tu memang sedap! Nak kata manis tu takdelah manis mana. Cukup2 rasa je hehe
Overall memang puas hati lah. Next time kitorang nak try yang mango cheese cake bingsu tu pulak. And they do provide free lemonade drink kat tepi tu that's why kitorang tak order minuman.
Sorry guys sebab aku tak banyak ambil gambar masa ni sebab handphone dah low battery. So faham2 lah ye hahaha
till next time!